FAQ for our English speaking customers.
Say it loud and proud! Share the big news with friends and family with a little fairy tale!
---

---
Fairy tale Birth announcements, how does it work?
---
♦ Step 1:
Order your birth announcements:
*We speak English
♦ Step 2:
As soon as we have received your payment, we will send you additional information for the birth announcement by email (photo example with photo tips, fonts, birth announcements wording ideas etc.). If you have chosen to receive the envelopes earlier, we will send them to you in advance.
♦ Step 3:
We'll get started creating your birth announcement and we will place your personal (preliminary) text in the card. If there are any siblings and you'd like them to announce your new baby, we will process the pictures in the announcement in advance. You'll receive a proof of the card by email.
♦ Step 4:
If you want adjustments or changes, you can indicate this. After we have adjusted the card we will send you a new proof by email.
♦ Step 5:
When your little one is born and we have received the photo and birth details on working days before 10 AM, we will send you the final proof of the card by email before noon.. After we have recieved your approval(before 12 PM.), we will print the card immediately and send it to you or you can collect the birth announcementsat our store. If you have ordered the digital files of the announcements instead, we will send you the card "print ready" in high resolution as soon as possible via wetransfer.com and you can print your announcements at a printstore nearby.
---
Frequently asked questions (FAQ)
---
Is it possible to order birth announcements from another country in Europe?
Yes, certainly! The design of the card is done digitally and we send samples by email for you to review. Shipping abroad usually takes 1 -2 business days longer than shipping within the Netherlands.
Is it possible to order birth announcements from outside Europe?
For orders outside of Europe we advise to order your birth announcement digitally (design only) in order to avoid any delays. You can order any birth announcement from our collection. You will recieve a print ready file in High resolution (300DPI) which you can print at a printstore nearby in any quantity you want.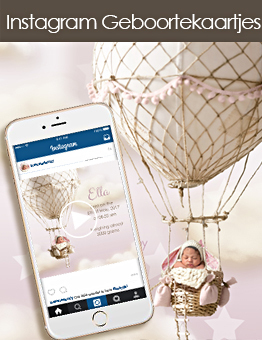 Do you process the photo of our baby in the birth announcement?
Yes. We'll create a little magic with your photograph. We will enhance, correct en brush the skin of your little one and place the photograph of your baby in the announcement.
How do I photograph my baby?
You can make the photo for the birth announcement yourself by simply using your smartphone or a digital camera and send the picture to us. Photographing your baby is truly not difficult. We wil send you simple instructions for shooting the best picture of your baby. Moreover, the photo does not have to be perfect. We edit the photo thourougly and correct it where necessary.

Can I request a customization?
If you'd like customizations beyond what you see while placing your order, you can request additional changes like a color change, or certain items added in the card, replaced or removed.
Can I choose my own text and change the font?
Absolutely! You determine the text in your card and you can choose any font you'd like. Click here to see our fonts.
Can I see a proof of my birth announcement after I place my order?
Yes. After we've recieved you (down)payment, we will start creating your announcement and we will send a digital proof to your email for approval. If you want any changes, you will recieve another digital proof untill your satisfied.
Can I add separate invites to a birth announcement?
Yes that's possible. Birth announcement invites are small cards (11x11 cm or 9x13 cm) In the same design as your announcement.
How do I pay?
We accept the following payments:



Would you rather not pay everything at once? Then choose payment by invoice. Before we start with the birth announcement, we first ask for an downpayment of € 65.00. The remaining amount must then be received by us before we send you the cards or the digital files. You can transfer the remaining amount to us or pay at our store (by cash or pin transaction) if you want to collect your announcements there.
What are the shipping costs for printed cards?
Shipment within the Netherlands €6.00 Shipment to Benelux and the rest of Europe €12.50 Shipment (international) to the US & Canada etc. approx. €17.50
Estimated delivery dates are calculated from the time payment is received and are based on business days (does not include weekends or holidays). Please note that delivery dates are estimates only and can never be guaranteed. Weather and other occurrences beyond our control may impact our ability to deliver by the estimated date. Orders placed on weekends and holidays will be printed & shipped the next business day.
Can I receive the envelopes earlier?
The shipping costs for sending the envelopes within the Netherlands are € 6.00, Shipment to Benelux and the rest of Europe €12.50 Shipment (international) to the US & Canada etc. approx. €17.50
Can I request a sample package of your birth announcements?
Yes certainly. Sample packages are free. Click here and order yours today!
Can I see a proof before I place my order?
Yes, you can request 1 free digital proof with your own text before placing your order. Please note that your photographs are not included with a free digital proof. Request your digital proof here.
Can I see a proof with the picture of my baby before I place my order?
Unfortunately we can't provide a digital proof with your picture for free. Placing a photograph in a birth announcements requires a lot of work. If you'd like to see a digital proof with your photograph we charge a fee of €65.00 for your baby. If you order the same card, we'll settle the amount with the total of your invoice. Please note that this fee is non refundable in case you decide not to place an order. Request your proof here.
---
Any questions?
Please do not hesitate to contact us. Start a chat with us on this website , Talk to us on WhatsApp: T. +31 (0)6 31377773​ Call us: +31 (0)20 6981798 or send us an email (Fast response).
Whats our time?
We are are based in The Netherlands, Europe. We are open from monday to friday 09.00 - 18.00 hours. Local time GMT +2
Do want us to call you?
Sent us your phone number, your location and a time that suits you and we will call you (free of charge) to answer any questions you might have. Click here to send us an email.